SENIOR THOUGHTS ON LAST DAY OF SCHOOL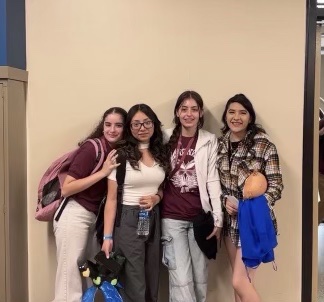 The time is here. We've made it, Class of 2023! After hours of hard work and hundreds of obstacles we've overcome, we finally did it. Everything has paid off, and we'll soon be off chasing our own dreams. We'll leave Morton East cherishing and appreciating every moment and lesson because that's what made us who we are today. As we move forward, let's not forget the bonds we've formed and the friendships we've made. Let's continue to support each other and strive for greatness in all that we do. Congratulations, Class of 2023!
Here are some last thoughts and plans from some of the Class of 2023 that they can always look back on.
"I'm attending Morton College but I'm sad and happy about leaving because I won't get to see the people I have really bonded with and gotten close to but at the same time I'm finally done," –Stephany Castro
"I'm going to Elmhurst University to study for 4 years and I feel okay about leaving high school since it will be a new beginning for a new chapter in my life," – Jose Flores
"A sweet ending to a new beginning," —Jada Smith-Vaca
"All the greats find a way,"—Alex Mireles
"I'm excited but nervous at the same time to leave Morton I had a good run and made some great friends and memories I'll cherish forever but I'm ready for a new start at DePaul University where I'll be studying business administration for the next four years," –Monzerrath Garay
"Ahora que?" –Carolina Leanos
"It's sad to leave this all behind but the next chapter in my life starts after today and I'm glad that these last four years helped me become the man I am today,"—Orlando Mayo
"I plan on studying cosmetology and following my dream of becoming a hairstylist and makeup artist I also feel relieved that after so much hard work I'll finally be able to walk across the stage and get my diploma,"—Alejandra Heredia
"I don't know how but I made it after many twists turn ups and downs and  now its time to close this chapter of my life and begin a new one,"—Melanie Vargas
"When I first came to Morton in the beginning of my senior year it was honestly nerve-racking seeing as how big the school is compared to my old school but as the weeks and months went on I started to feel more comfortable at Morton all while also meeting new people in the classes I had or just in the halls which really helped me get to where I am now finishing high school and preparing for my next adventure in trade school learning how to operate and build a business from the ground up lastly before I forget I am forever grateful to those who supported me and believed in me" –Bryan Gonzalez
"I feel sad because I not going to have classes with my friends and other people I know again but I am also excited because I'm going to meet new people at Elmhurst University where I'll create new memories and friends,"—Tamara Saucedo-Rodriguez
"I'm Sad but happy at the same time because I'm leaving my friends but I'm glad to be leaving school and accomplishing my dreams,"—Isabel Contreras